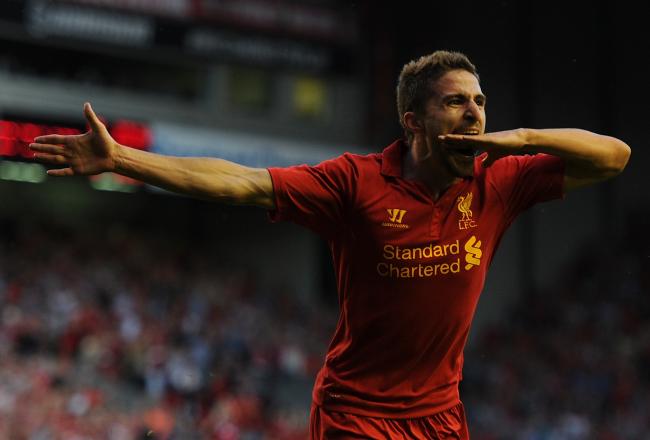 Does anyone understand his celebration?
Chris Brunskill/Getty Images
When Fabio Borini fractured a bone in his foot early in October, things were already dire for Liverpool at the striker position.
News that he could be out for three months was devastating at the time, and left Luis Suarez as the team's lone striker, reserves notwithstanding.
Now, a month after his injury, Suarez has reveled in the role and is tied with Robin van Persie as the Premier League's top scorer with eight goals so far.
To that end, Borini's injury has been a blessing in disguise. Brendan Rodgers was using Suarez and Borini in a timeshare as the team's front man until the injury. One would take the central role, while the other was pushed out wide.
Suarez, whose more natural position is on the wing, cutting in with pace, has proven that he is a formidable threat in any forward position.
He's scored all kinds of goals so far including free kicks, impossible angles right on the touch line, dribbling past defenders, receiving the long ball and beating the keeper and even headers from set pieces.
It's hard to imagine that all of those would have been possible if he was still splitting time with Borini.
Another bit of silver lining emanating from Borini's unfortunate circumstance has been the learning experience for Suso, who has filled in out wide numerous times in Borini's absence.
Suso has looked quite good, and has proved himself to Rodgers as a viable option to start in the league or in UEFA play.
His pace and touch on the ball look promising going forward, but it's his vision and creativity that set him apart from Stewart Downing and other candidates for the role.
Until his injury, Borini had played in every single match for Liverpool since the league began, including UEFA matches. Rodgers' affinity for the young Italian isn't surprising given their history, but the injury has forced Rodgers to look deeper onto his chart and he's liked what he's seen so far.
Still, given the brilliance of Suarez and the promise of Suso, Liverpool only have one striker on the teamsheet in most matches.
One more positive that may yet come from the injury is that there will be additional pressure to bring in a striker during the January transfer window.
Liverpool already needed one before Borini's injury, but now the stakes are higher, and the Reds are trying to get back into a reasonable table spot before the year ends.
Unbeaten in their last six league matches, if Rodgers and Co. can keep their form and turn some of those draws into wins going forward, then finishing in the top eight or six is not unfathomable by January.
While these all might prove to be positives for the club, it may be a bit more difficult for Borini to find his way back into the regular starting 11 if he returns on track by mid-January.
In any case, depth in the attacking front would be a luxury that Liverpool have not had in quite some time.
By:
Bleach Report