Sebagai pemain dan berkhidmat kali pertama sebagai pengurus Liverpool, Kenny Dalglish dikenali sebagai pengurus/pemain yang jujur ​​dan berterus terang.


Namun sejak kembali ke Anfield, beliau tidak berterus terang dalam aspek pengurusan kerana ia begitu membebankannya dan akibat tekanan kuat dari pihak FSG.
KD terlalu banyak memberi janji dan harapan kepada penyokong Liverpool tetapi hakikatnya beliau tidak dapat mengotakan janji itu. Ya, aku faham kelab dilanda masalah sekarang ini. Tapi kenapa beliau cuba menidakkan masalah yang dialami oleh pengurusan Liverpool? Adakah beliau cuba menutup pekung kelab?


Sikap KD ini membuatkan media-media memainkan unsur sentimen kepada Liverpool. Musuh-musuh utama Liverpool pula bertepuk tangan dengan masalah yang dihadapi kelab. Adakah anda gembira kelab kesayangan anda sering dicemuh oleh musuh-musuh seperti Manshit yang dah sedia maklum memang membencikan Liverpool sejak azali lagi.
Oleh itu, bermula dari akhir season ni, KD dan pengurusan harus mencari jalan terbaik untuk memperbaiki kelemahan yang ada pada kelab. Buanglah ego itu, kerana kesalahan itu memanglah pahit untuk ditelan tetapi ia hanya sebentar. Percayalah jika kemelut dalaman ini dapat diperbaiki aku yakin Liverpool dapat kembali kepada era kegemilangannya. Aku pasti!
p/s: byk sangat alasan buat penyokong naik fed up. tp rileks beb. KD legend.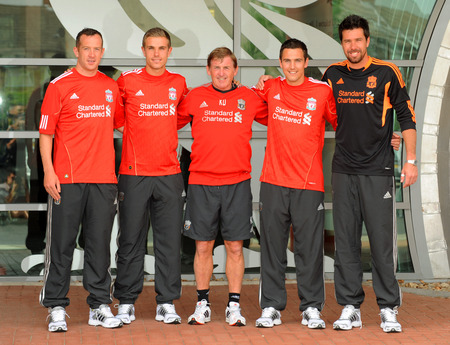 kumpulan FLOP poppy
Laporan menunjukkan Liverpool telah meghabiskan 110juta Pound untuk mendapatkan pemain baru akhir musim lalu kendalian KD.
Terimalah hakikat bahawa most of the player who brought in memang flop. So untuk season hadapan, pihak pengurusan wajib "membuang" yang keruh-keruh tu dan "mengambil" yang jernih. Kalau faham maksud aku ni baguslah ya.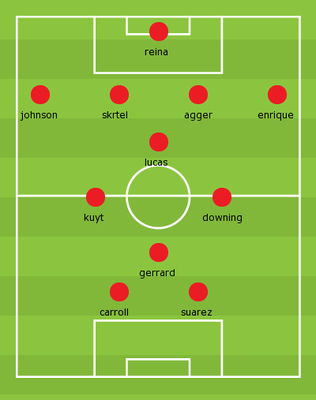 next season formasi sama tapi player lain. hehe
3.
Line up yang konsisten.
Bagi aku line up yang konsisten penting untuk mewujudkan keserasian dikalangan pemain. Kerjasama yang tinggi diperlukan untuk menjadikan sesebuah pasukan mantap dan dapat membantu kelab menjuarai sesuatu kejohanan.
Line up Liverpool memang agak huru hara sejak kecederaan demi kecederaan yang dialami Liverpool. Bagi aku posisi di atas ni patut di guna pakai oleh Kenny tanpa menukar pemain-pemain. Ini penting untuk memberi keserasian pemain di atas padang. Tetapi mungkin factor Liverpool mempunyai terlalu ramai pemain dari posisi tengah menyukarkan keserasian terbentuk.