JONJO SHELVEY - CENTRE MIDFIELD
The best player on the park in the first half, and indeed Liverpool's best performer of the entire game.
Jonjo Shelvey controlled Liverpool's passing game through midfield and dictated the tempo to a large extent when Liverpool gained a foothold after about a quarter of an hour.
Playing as the most advanced of a midfield three, he joined in attacks frequently and made up an extra body in the box, twice getting into good shooting positions where he hit the target.
A creative outlook at times too, Shelvey has hugely impressed in his two preseason appearances so far.
His strong, aggressive play off the ball and a willingness to take charge on it shows that he is maturing mentally as well as physically. He's certainly making a case for a regular inclusion in match-day squads once the season starts up properly.
ALBERTO AQUILANI - CENTRE MIDFIELD
Back in action against his former side, Alberto Aquilani was a strong presence in the Liverpool midfield and helped the Reds eventually dominate the midfield after a shaky start to the match.
Quick, incisive passing and good control were a feature of the Italian's game. Aquilani was also one of the better players at pressing the Roma side when they were on the ball.
Able to switch play with his first touch, break forward to support the attack as well as centre midfield partner Shelvey, but also keen and reliable in his defensive duties, Aquilani performed well yet again.
His performance will have plenty of Kopites hoping he remains at the club beyond preseason this year.
RYAN MCLAUGHLIN - RIGHT BACK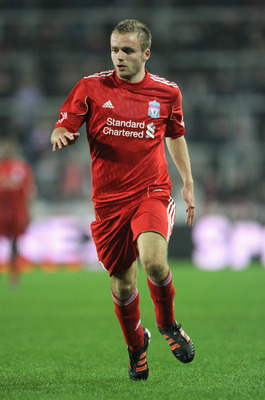 With his first 45 minutes of football in the Liverpool first team under his belt, right-back Ryan McLaughlin can be both proud of his achievement and satisfied that he performed admirably.
Showing remarkable confidence to get forward into the final third and support the attack, McLaughlin provided a good outlet down the right side for Liverpool and overlapped Joe Cole very well indeed on two or three occasions.
Defensively, he was sound in the tackle and calm in his distribution, though the natural attacking tendencies Rodgers expects from his full-backs does on occasion leave them susceptible to runs in behind, which is something further experience in the game will help McLaughlin overcome.
DANI PACHECO - LEFT FORWARD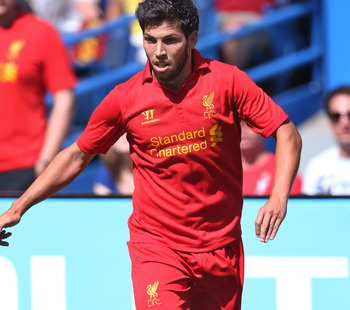 Though not as technically accomplished on the night, nor as successful in his end product, as those who came before him on this list, Dani Pacheco nevertheless impressed once more through his work rate, drive, and willingness to help out the team.
Even though not everything came off for him against Roma, he has clearly come on a good deal in the past year and looks to be a more committed and confident player.
The left-sided role in the front three is perhaps the only route to first team football open to him at this point, so he needs to continue trying to impress if he is to make it at the club.
Pacheco claimed an assist for Liverpool's goal through Charlie Adam.
DANI AGGER - CENTRE BACK
As usual, Liverpool's defence is displaying its customary preseason erratic and unreliable form in stopping opposition goals, largely due to the chopping and changing, lack of constant shield in front of them, and rotating goalkeepers.
Even so, Daniel Agger's first game back in the side can be counted as some kind of success as he slotted back into the team and immediately looked the part, both in his reading of the game and his bringing the ball out of defence, which will likely be an important asset of Liverpool's play this season.
True, he misplaced some passes in the final third, but this was his first 45 minutes of football since Denmark was eliminated from Euro 2012 and mistakes were to be expected to some extent.
Countless interceptions and an experienced guide through the game for his playing partner, Stephen Sama, showed his importance to the team.
ADDITIONAL INFORMATION.
Though not in the top six individual players, there were a few other players or moments in the game which merited mention.
Manager Brendan Rodgers, for example, for keeping Martin Skrtel on the right side of the defence even with Jamie Carragher in the team. Skrtel will play on the right, is better on the right, and must not be moved to accommodate a teammate who is, or will be, filling in.
Then there was Raheem Sterling for some sublime control and moments of excitement; he will keep getting better with more games and doesn't look out of place.
Peter Gulacsi made a handful of good stops in the first half and showed his promise.
Finally, in the second half, Krizstian Adorjan had a few moments where he showed his awareness and ability to play a through ball, playing closer to his favoured position instead of the deeper role he featured in against Toronto.
By: Karl Matchett -

Bleach Report