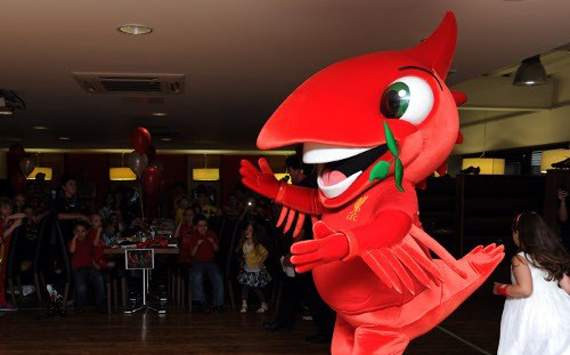 Liver Bird
Liverpool have unveiled a new team mascot - the 'Liver Bird', based on the symbol of the city.
The figure, nicknamed, 'Mighty Red' has been created to appeal to the younger generation of Reds fans, however the poor 'bird' was met by a mixed reception at a children's party on Sunday afternoon.
Liverpool have never had a pitch-side mascot to represent the club and it seems that the American owners are set to continue this tradition, with the new recruit solely being used for community events to entertain children.
Liver Bird mascot
And while the mascot went down well with the younger members of the audience, the older generation were less than impressed.
One onlooker told the Daily Mail: "It looks ridiculous. We'll be a laughing stock if this thing appears on the touchline. It's just more Americanisation of the club."
"While it's fine for the kids - it will be good at children's parties - and is marginally better than the utterly dreadful Olympics mascots, just keep it away from Anfield."
Liver Bird sing YNWA song
Another audience member, however, was much more receptive of 'Mighty Red', stressing how much of a hit the bird was with the children.
The fan, who seemingly wanted to remain anonymous, added: "I was there for the launch of Mighty Red and he went down brilliantly with the kids, who are the intended targets for this mascot."
Give me 5 kids
'They ran like mad to get their goodie bags off him, they danced around him and queued up to have their pictures taken. They loved him!'
'Mighty Red' isn't the first mascot to have gone down like a lead balloon in Merseyside, with Everton unforgettably attempting to introduce 'Mr Toffee' in the 1990s. He lasted a year on the Goodison Park touchline before being given his marching orders.
The boy who wear red shirt is a scremo! waaaaaa!~~
p/s: Fly High LiverBird. :)