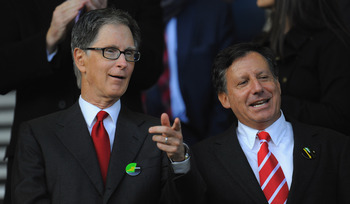 6. Fenway Sports Group
6. Fenway Sports Group kendalian Mark Henry ini telah meletakkan diri mereka dalam keadaan yang sukar. Mereka telah melantik KD untuk menjadi pengurus pada tahun lepas atas pilihan dari penyokong Liverpool sendiri. Ia memang strategi yang sangat berkesan bagi Fenway Sports Group kerana KD merupakan seorang Legend berpengalaman dalam bolasepak Liverpool.
Namun, tindakan FSG ini diibaratkan sesuatu yang sangat-sangat berisiko. KD sebenarnya hampir dipecat, akibat persembahan yang buruk pasukan sejak akhir-akhir ini. Namun penyokong-penyokong Liverpool terus menyokong KD walau apa pon yang berlaku dalam pasukan dengan kata slogan IKKWT. Kata azimat ini terus meresap di dalam hati penyokong Liverpool.
Sikap FSG yang berdiam diri dalam isu Suarez membuatkan mereka bertanggungjawab dalam prestasi buruk Liverpool musim ini.
7. Lucas Leiva
7. Ketiadaan Lucas sangat memberi kesan kepada Liverpool. Ketiadaan Lucas sebenarnya memberi impak yang tinggi bagi pasukan Livepool. tiada lagi aksi takcle bersih dan hantaran tepat di bahagian tengah. Sejak Lucas tiada, Liverpool agak kucar kacir di bahagian tengah. Ketiadaannya memberi peluang Jay Spearing untuk menggantikan tempatnya.
Kelemahan Jay Spearing cuma 1 iaitu tidak dapat mengambil bola tinggi kerana tubuhnya yang agak kecil. JS memiliki personaliti yang sama sepeti Lucas tetapi erlukan masa untuk menjadi 'Boss in Midfield'
He's from zero to a hero for Liverpool. The fan always chany his name.
8. Charlie adam
8. Pemain yang hanya berharga 7 juta pound dari Blackpool ini bukan lah 1 pembelian yang rugi. Mengikut analisis ketika beliau di Blacpool. Beliau merupakan seorang yang mampu membuat hantaran yang jauh dan kehadirannya ke Liverpool membawa harapan baru kepada penyokong Liverpool yang mengharapkan Adam dapat menjadi pengganti Xabi Alonso.
Tetapi sayangnya, beliau hanya bermain baik di awal musim dan selepas itu pesembahannya terus tidak konsisten.
9. Steven Gerrard
9. Kecederaan yang membelenggu pemain ini di pertengahan musim merupakan salah 1 faktor mengapa Liverpool begitu tertekan dalam pemilihan pemain yang berkualiti. Gerrard hanya dapat bermain 16 perlawanan daripada 31 perlawanan yang dipertandingkan setakat ini. Sejak akhir-akhir ini, permainan beliau kurang konsisten.
10. Raul Meireles
10. Raul Meireles dibawa masuk oleh Roy Hodgson pada tahun lepas. Beliau merupakan antara best signing Liverpool pada tahun lepas. Dia meneruskan tradisi yang ditinggalkan Xabi Alonso dengan kreativiti di bahagian tengah sering digeruni pasukan lawan. Sebenarnya sangat sukar mempercayai pemain seperti Meireles ini meninggalkan Liverpool. Hal ini kerana beliau telah mengemukakan surat untuk berpindah atas sebab pihak atasan Liverpool tidak mahu menaikkan gajinya. Nampak seakan-akan pihak pengurusan tidak mahu khidmat Meireles di Liverpool.
Sejak ketiadaan Meireles, Liverpool kekurangan pemain kreativiti terutama selepas kecederaan yang dialami oleh Gerrard dan Lucas.