Young players will run through a barbed wire fence for you
Only this time Brendan Rodgers is not offering gushing praise but a stern warning to the teenager.
Addressing a group of
Liverpool
's youngsters on the club's pre-season tour of North America, the Liverpool manager is quick to make his presence felt.
"I need you to pay attention. Your attitude needs to improve in your work," he says to the group, before fixing his glare on Sterling.
"If you say, 'Steady' to me again when I say something to you, you will be on the first plane back. You know what you said. You will be on the first plane back."
The sermon continues before the group disperses, though as it does so, Rodgers barks: "Sterling. You know what you said. You said, 'Steady'. You said, 'Steady'."
Briefly, the teenager looks as if he is ready to defend himself before accepting arguing is futile. A lesson had been learnt.
Liverpool boss Brendan Rodgers
Judging by Sterling's eye-catching performance against Manchester City on his first Premier League start, Rodgers' rivals will find keeping the 17-year-old in check rather more difficult.
Kolo Toure would testify as much after Sterling's pace, close control and eagerness to keep going from the first minute to the last fired the imagination.
The average age of Liverpool's starting line-up in the 2-2 draw with City was their youngest since 2003, but Sterling, born in Kingston, Jamaica, and brought up in London, represents the future and the present.
"Young players will run through a barbed wire fence for you," said Rodgers.
"Older players will look for the hole or just turn back and not even go through it. But you get that freshness from Raheem. I like exciting players as well and he is a boy that excites you.
"Maybe this might be a good opportunity for them because we don't have the money that some of our rivals have."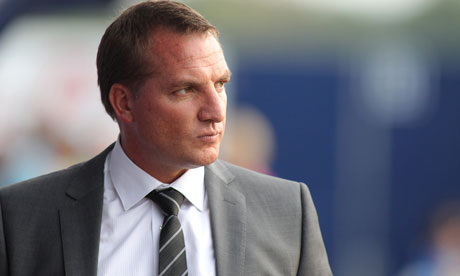 Liverpool signed Sterling from Queens Park Rangers in February 2010 for a fee that could eventually reach £5million.
His first appearance in a Liverpool shirt came in an Under-18s derby against Everton.
Liverpool fell 2-0 behind before Sterling, who was 15, went into overdrive. He scored a goal, set up another and won a penalty as his team-mates rallied to win 4-3.
Sterling arrived on Rafa Benitez's watch; academy director Frank McParland has since aided his progress; Kenny Dalglish handed him his debut – but it is Rodgers who is the lucky one.
And England, for while playing for Jamaica is an option for Sterling, he is ensconced within the FA's system and represented the country at the Under-17s World Cup last year.
A call-up for the Under-21s, who play Azerbaijan next month, beckons. "I have seen a lot of development in him in a short time," said Rodgers, who left Stewart Downing on the sidelines to accommodate Sterling.
"He takes on a lot of the concepts and he is very good with instructions. Normally wingers want to do their own thing but he is tactically improving every day.
"I am certain over the next few years that he will develop into a very good footballer. We just have to make sure that we keep the pressure off him.
"He certainly won't be going on loan and I believe that if we can help and nurture him in the right way, he will be a very good player for Liverpool.
"One of the things I have specialised in is the management of top young players. I look at players like Scott Sinclair and boys of that ilk. Raheem is up there in that bracket. Maybe more advanced at that age."
LIVERPOOL midfielder Lucas will undergo a scan today amid fears he is facing another lengthy lay-off. Lucas aggravated a thigh injury and had to be substituted in the draw with Manchester City.
By Paul Joyce - Express.co.uk